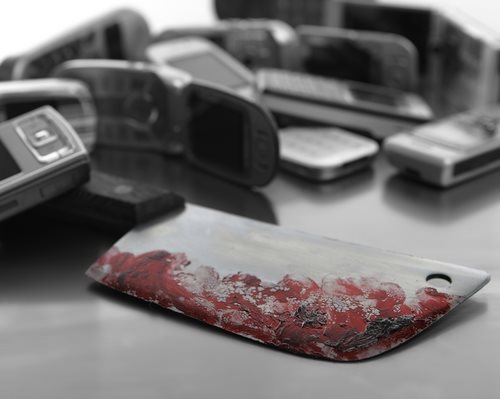 Who is Jeffrey Dahmer?
Jeffrey Dahmer was an infamous American serial killer and notorious sex offender. In total, Jeffrey Dahmer murdered 17 men and young boys—the majority of Dahmer's victims were of African or Asian descent—between the late 1970s and early 1990s. Jeffrey Dahmer is unfortunately known for the savageness and brutality for which he killed and subsequently disposed of his victims; Dahmer's murders were particularly savage, for they commonly involved rape, dismemberment, torture, necrophilia and cannibalism.
The Early Years:
Jeffrey Dahmer was born in West Allis, Wisconsin on May 21, 1960. By all accounts, Jeffrey Dahmer's childhood was defined and regarded as normal; however, when Dahmer reached the age of 15, he grew increasingly reserved and withdrawn from social interactions. As a youth, Dahmer would shy away from normal childhood activities, opting instead to bike around his neighborhood looking for dead animals, which he dissected at home. By the time Jeffrey Dahmer reached high school he was a raging alcohol and classified as extremely depressed.'
After immediately dropping out of Ohio State University, Jeffrey Dahmer was forced to enter the military by his father. Although Jeffrey Dahmer thrived at first in the organized and disciplined structure of the military, he was discharged after two years of service due to alcoholism.
In 1982, after being arrested for disorderly conduct and public intoxication, Jeffrey Dahmer moved in with his grandmother in West Allis. During this juncture, Dahmer's behavior grew increasingly weird; his grandmother routinely found weapons in his room and Dahmer was arrested twice for indecent exposure in 1982 and 1986.
The Jeffrey Dahmer Murders:
After being arrested and due to his strange behavior, Dohmer's grandparents kicked them out of their home in the summer of 1988. After finding an apartment on Milwaukee's West side, Jeffrey Dahmer was arrested for drugging and fondling a 13-yeard old boy. For this obscene crime, Jeffrey Dahmer was sentenced to five years probation and required to register as a sex offender. After receiving parole, Dahmer moved into a new apartment; shortly thereafter, Dahmer went on a vicious killing spree that ultimately ended with his arrest in 1991.
While still living with his father, Jeffrey Dahmer committed his first murder in the summer of 1978. With his family away, Dahmer picked up a hitchhiker, invited him back to his father's house for drinks and 'sexual activity.' When the man tried to leave, Dahmer bludgeoned his victim with a barbell and buried his corpse in the backyard.
Nine years after his first murder, Dahmer claimed his next victim. Following this attack, Dahmer continued to kill sporadically: Dahmer committed two murders in 1988, one in the early part of 1989 etc. Dahmer commonly picked up his victims in gay bars, drugged them and then savagely murdered them. Dahmer, as a psychotic post-humorous ritual, would often keep his victim's body parts or skulls in his apartment refrigerator.
Jeffrey Dahmer picked up his murdering pace in the early 1990s. Using his own residence as the central hub for his devastation, Jeffrey Dahmer averaged one murder a week during the summer of 1991.
Jeffrey Dahmer's Arrest:
On July 22, 1991 Jeffrey Dahmer lured another potential victim, Tracy Edwards, into his Milwaukee apartment. Based on the would-be victim's testimony, Dahmer struggled in subduing Edwards. With a large butcher knife in hand, Dahmer forced Edwards into the bathroom, where the prospective victim saw pictures of mangled bodies and acknowledged terrible smells coming from barrels that were strewn throughout the room. Edwards, in a state of panic, kicked Jeffrey Dahmer in the stomach and sprinted out into the street where he eventually waved down a police car. Edwards brought the officer's back to Dahmer's apartment where a search revealed gruesome displays of murder and torture. Severed heads, photographs of murdered victims, and humane remains were in Dahmer's refrigerator as well as throughout his entire apartment.
Jeffrey Dahmer's Trial and Death:
Jeffrey Dahmer was indicted on 17 murder charges (later reduced to 15) and after two weeks of trial, the court found Dahmer sane and guilty on all 15 counts. As a result of the viciousness and serial-nature of his crimes, Jeffrey Dahmer was sentenced to 15 life terms or 957 years in prison.
Dahmer was extradited to Ohio where he ultimately declared himself a born-again Christian. Dahmer was attacked by fellow inmates for the nature of his savage crimes. On November 28, 1994, while partaking in janitorial work, Dahmer and another inmate were severely beaten with a broom handle by fellow inmate Christoper Scarver. Dahmer dies of severe head trauma while on his way to the emergency room; his brain was taken for study.
Comments
comments