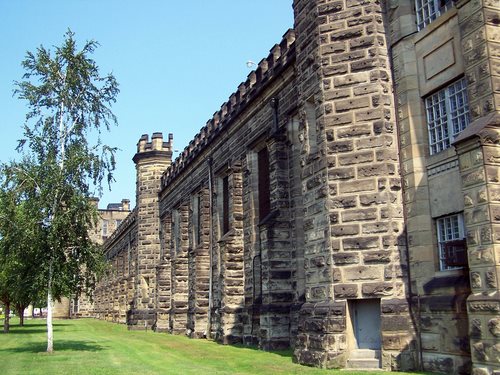 Who is Charles Manson?
Charles Manson is a notorious American criminal who started and subsequently led what became known as the Manson Family—a quasi-cult that arose and eventually terrorized the western region of the United States in the late 1960s. As a result of this formation, Charles Manson was found guilty of conspiracy in conjunction with the Tate/LaBianca murders—these high profile murders were carried out by members of Manson's disruptive clan.
Before 'the family' was created, Manson was an unemployed ex-convict who spent the majority of his life in various correctional facilities throughout the United States.
Charles Manson was convicted of the aforementioned murders in alignment with the joint-responsibility rule, which makes each member of a conspiracy or a criminal organization guilty of crimes that were committed in alignment with the organization's function.
Charles Manson was driven to form his commune through the belief that an apocalyptic race war was brewing throughout the world. Manson developed this notion through the lyrics of a Beatles song, "Helter Skelter", where Manson viewed the underlying tone and the song's title "Helter Skelter" as a formal prelude to an impeding apocalypse driven by race and inequality. As a result of this roundabout connection, Manson was widely linked with pop culture and eventually became an emblem of violence, insanity and macabre—a symbol commonly linked with Manson, which emphasizes ghastly atmospheres and the coming of death.
Charles Manson's Profile:
Charles Manson was born on November 12th, 1934 in Cincinnati, Ohio. Manson was married to Rosalie Jean Willis Leona, also known as Candy Stevens, whom he had three children with. Manson lived in the greater Los Angeles area throughout the majority of his life where he toiled in petty crimes and worked as a singer-songwriter on the fringe of the Los Angeles music industry.
Manson's first crimes typically revolved around burglary; as a youth, Manson would rob convenient stores and supermarkets. After escaping correctional facilities Manson, upon honoring a parole condition, lived with his family in West Virginia. Shortly after moving in, he married his wife while maintain part-time jobs and committing grand-theft auto to get by. Upon release of his second prison stint, Manson established himself as a guru in San Francisco's Haight-Ashbury section. During this time, the "Summer of Love" was emerging as a signature way of life for the hippie locale. Through rhetoric and teachings, which revolved around Scientology, Manson and his followers piled into an old school bus and travelled throughout the west.
As Manson's influence grew, he began preaching about the racial tension developing between whites and blacks in America. Manson envisioned an apocalypse–which was fueled by hidden messages in various Beatles' albums—that was precipitated by racial tension and sociological differences. As Charles Manson's message became more ominous his follower's loyalty grew stronger. This loyalty was often tested by Manson who made new entrants into the family commit violent crimes. Manson's first known attack occurred, when Manson ordered members of the family to collect money from Gary Hinman, a music teacher and manufacturer of synthetic masculine.
Following the attack of Hinman, Manson ordered members of the family to kill everyone at the home of Roman Polanski and Sharon Tate. Upon arriving at the location, the family savagely murdered Steven parent (who was parked in the estate's driveway), Jay Sebring, Wojciech Frykowsky, Abigal Folger, Sharon Tate and Sharon Tate's unborn child. The next day the family went to the home of Leno and Rosemary Labianca where Manson tied up the victims and ordered the family to murder them.
Charles Manson's Arrest:
On October 10, 1969, Manson and the Family were rounded up by law enforcement agents and taken into custody on suspicion of auto theft. Manson and the family were found guilty of Murder and Conspiracy on January 25, 1971.
Originally, Manson was sentenced to death; however, the death sentence was later converted into a life sentence as a result of a California Supreme Court Case, which deemed all death sentences that were enacted before March of 1971 to be ruled void.
As a result of numerous infractions with fellow prison mates and security guards, Manson has spent the majority of his life sentence in isolation for 23 hours a day and kept in cuffs when moving within the general prison areas. Manson has been denied parole several times and has been the victim of heinous acts within the prison walls—prisoners routinely beat Charles Manson, set him on fire, raped and poisoned him.
Comments
comments