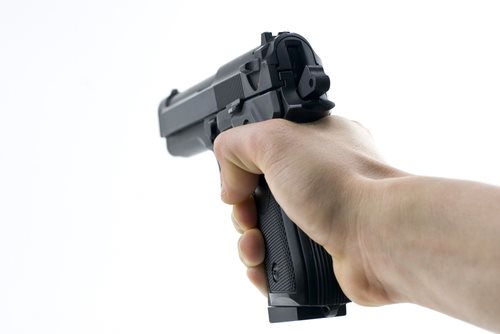 The Background of United States v. Lopez:
United States v. Lopez was the first United States Supreme Court case since the creation of the New Deal, which specifically created regulations or limits in regards to Congress's power under the Commerce Clause of the United States Constitution.
Alfonso Lopez was a High School Senior at Edison High School in San Antonio, Texas. On March 10, 1992, Alfonso Lopez carried a concealed pistol, along with five cartridges, into the school. When confronted by authorities at the school, Lopez admitted to carrying the pistol; the next day, he was charged with violating the federal law which restricted firearms on all school properties. The specific law which Lopez was accused of violating is found in the Gun-Free School Zones Act of 1990.
Alfonzo Lopez dismissed the indictment by stating that the creation of the Act was unconstitutional for the restrictions latent in the act went beyond the power of Congress; Lopez claimed that Congress was not allowed to legislate control over the public school district. The initial trial court denied this motion, ruling that Congress possessed the power to regulate activities that affected commerce and the safety of elementary, middle and high schools throughout the United States.
Alfonso Lopez was tried and subsequently convicted; he later appealed the decision to the Fifth Circuit of Appeals, claiming that the Act exceeded Congress' ability to legislate under the Commerce Clause. The Fifth Circuit, after review, overturned the conviction, stating that the indictment was beyond the power of Congress under the Commerce Clause. The government then petitioned to the Supreme Court for the case to be reviewed.
Trial:
In United States v. Lopez, the United States Federal Government's principal argument was that possession of a weapon in an education facility would likely lead to a violent crime, which would ultimately affect the general economic condition of the school and the community at large.
IN United States v. Lopez, the Supreme Court affirmed the decision of the Court Appeals. The Supreme Court, in United States v. Lopez, stated that while Congress had broad authority in regards to lawmaking under the Commerce Clause, the exact powers were limited, and did not extend so far from the clause as to authorize the regulation of the carrying of firearms.
The Case Profile of United States v. Lopez:
The following is a case profile of the legal trial eponymously titled United States v. Lopez:
Date of the Trial: November 8, 1994
Date of the Delivery of the Verdict: April 26, 1995
Legal Venue of United States v. Lopez: United States Court of Appeals for the Fifth Circuit and the United States Supreme Court
Judicial Officer Responsible for Ruling: Chief Justice William Rehnquist
Comments
comments