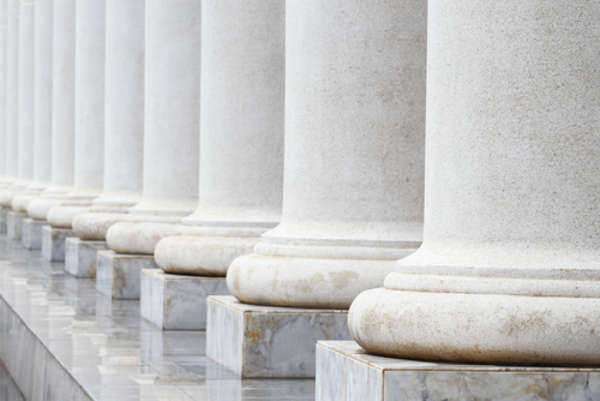 Tennessee v. Lane
The 11th Amendment of the United States Constitution gives "sovereign immunity" to federal and state governments. What this means is that unless the government has waived its right not to be sued, individuals cannot file a lawsuit directly against their state or federal government. Tennessee v. Lane was based on a complaint from two disabled individuals, George Lane and Beverly Jones, who believed that their due process rights had been violated by the state of Tennessee.
George Lane and Beverly Jones
George Lane, who made the original complaint in this case, was a wheelchair user who resided in the state of Tennessee. Lane had been injured in a car crash, which left him without the use of his legs and killed another person involved in the accident. He was charged with reckless driving by the state of Tennessee.
When Lane went to the county courthouse for his first pre-trial hearing, he discovered that the courthouse did not in fact have any elevators. He had to drag himself up two flights of stairs in order to go to the courtroom and participate in the hearing. According to Lane, security guards had laughed at him while he was trying to get up the stairs, and he refused to do it a second time for his next scheduled court time. He was arrested for failure to appear, even though the judge knew that the 3rd floor courtroom was inaccessible to him.
Beverly Jones never had to drag herself up flights of stairs, but as a paraplegic court reporter, she said she had been carried into buildings, a humiliating and demeaning experience when she was just trying to do her job. Both sued the state of Tennessee, alleging violations of their due process rights.
Tennessee Invokes 11th Amendment
As soon as it was sued, Tennessee said that the lawsuit was inherently invalid because of the state's 11th Amendment right to sovereign immunity from lawsuits. A few years before, the courts had decided that an equal protection lawsuit against state governments pertaining to disability discrimination in employment was invalid under the 11th Amendment, so the state felt its case was strong.
Supreme Court Ruling
In Tennessee v. Lane, the Supreme Court ruled in favor of Lane and Jones. While it was true, the court said, that they had recently dismissed a case involving disability lawsuits on equal protection grounds, that had been because there was little evidence to show that states had really been violating rights. In this case, there were two differences: first of all, rather than being about equal protection, Tennessee v. Lane was about due process rights, which were more explicitly covered by Title II of the ADA, which Lane was suing under.
The second half of the court's reasoning was that unlike in the equal protection case they'd heard before, in which evidence was lacking, the plaintiffs in Tennesee v. Lane brought a tremendous amount of evidence of their access problems in Tennessee courtrooms. This evidence very convincingly showed that disabled people in Tennessee were not being permitted due process because they were unable to access courthouse buildings and services.
Comments
comments