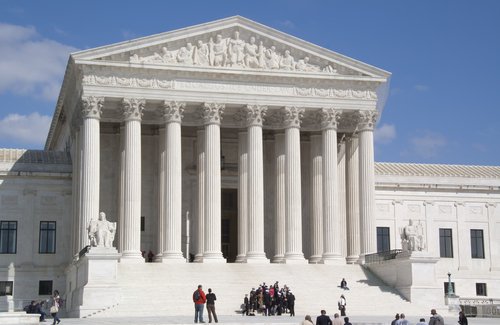 Jones v. City of Opelika (1943)
In the common law system (used in federal courts as well as courts in every state except Louisiana), decisions are made based upon the principle of stare decisis—"let the decision stand." Once a precedent has been set in a case, that precedent will typically stand for a very long time, or at least until substantial societal changes have made a different outcome possible. That's why Jones v. City of Opelika (1943) is such an unusual case. Just a year before, the Court made a ruling in Jones v. City of Opelika (1942), and its decision a year later was made in order to reverse the first decision. Such swift reversals of precedent are rarities in the United States legal system, making Jones an interesting case to take a closer look at.
The First Jones Case
In the 1942 case of the same name, Opelika, Alabama was a small town that had a licensing structure for anybody who wanted to sell books in the town. Anyone wishing to sell books was required to purchase a license from the city for $10 or $5, depending on what kind of bookseller they were. Bible salesmen were the only exception. The city also reserved the right to cancel the license at any time, with or without notice from the city council.
Jones, the petitioner in the case, was a Jehovah's Witness who sold and gave away religious tracts as part of his evangelism. He sued over Opelika's regulation, saying that the licensing regulation was an unconstitutional infringement of his right to freedom of the press and of religion. In this case, the Supreme Court ruled that the city of Opelika's licensing law was in fact constitutional. The justices' reasoning was that because the law did not discriminate between religious and non-religious sellers of books and pamphlets, it was not violating First Amendment rights to have a content-neutral licensing law. Jones v. City of Opelika (1943) would reverse this decision.
The Rehearing
The Supreme Court received several more appeals from various petitioners, all with very similar book licensing cases. The court agreed to re-hear all of these cases simultaneously and make a single ruling that would govern all of them, and hopefully clarify the state of the law for cities wishing to enact licensing regulations on booksellers.
According to the Supreme Court's decision in Jones v. City of Opelika (1943), it was not constitutional for cities to restrict the sales of religious books with licensing fees. In the court's decision, Justice Douglas ruled that if a city were to regulate the giving away of religious tracts, it would be an unconstitutional infringement on the freedom of religion. The fact that they are being sold in these cases rather than given away, according to Justice Douglas, changes nothing—if it did, he said, churches would become a commercial enterprise subject to commercial regulations every time they passed a collection plate through the pews.
The court's decision ended licensing for religious book distribution, and made it substantially easier for Jehovah's Witnesses as well as members of other evangelical religions to promote their religious beliefs publicly.
Comments
comments